CollaGEN
Powder Pack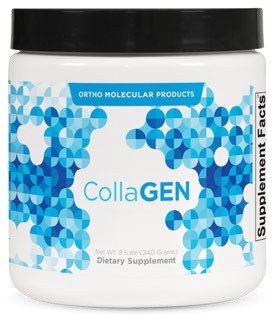 Read Clinical Specifications
Directions
1 scoop (8 grams) in 8 oz of water or the beverage of your choice per day or as recommended by your health care professional.
Does Not Contain
Gluten, corn, yeast, artificial colors or flavors.
Cautions
If you are pregnant or nursing, consult your physician before
taking this product
CollaGEN
Stick Pack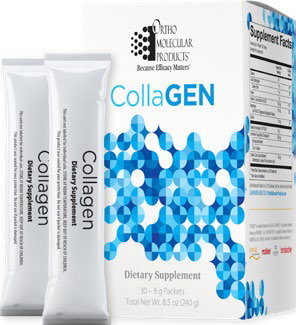 Read Clinical Specifications
Directions
1 packet (8 grams) in 8 oz of water or the beverage of your choice per day or as recommended by your health careprofessional.
Does Not Contain
Gluten, corn, yeast, artificial colors or flavors.
Cautions
If you are pregnant or nursing, consult your physician before
taking this product
---
CollaGEN includes three clinically studied ingredients to support the natural healing process and maintain connective tissue structure. Most therapies simply block joint pain and connective tissue discomfort from exercise, and in doing so inhibit the regeneration and elongation of specific polysaccharide recursors and deplete nutrients, such as magnesium and vitamin C, that maintain joint and connective tissue health. FORTIGEL®, Tendaxion® and Mobilee® protect and reserve cartilage, tendons, ligaments, fascia, bone and the intervertebral discs of the spine.
Clinical Applications
• Protects and Promotes Connective Tissue Biosynthesis
• Supports the Body's Self-Repair Process for Cartilage, Tendons,
Ligaments, Fascia and Bone
• Supports Joint Lubrication and Cushioning
• Maintains Normal Connective Tissue Inflammatory Balance
• Supports Normal Rejuvenation of Healthy Hair, Skin and Nail
---
Collagen Products Available In Corona, CA
To learn more about the health products offered at Nurturing You Women's Health and Wellness or to schedule an appointment, reach out by calling our office or connecting with us online today!