ThePerfect3 Pure Collagen Peptide Powder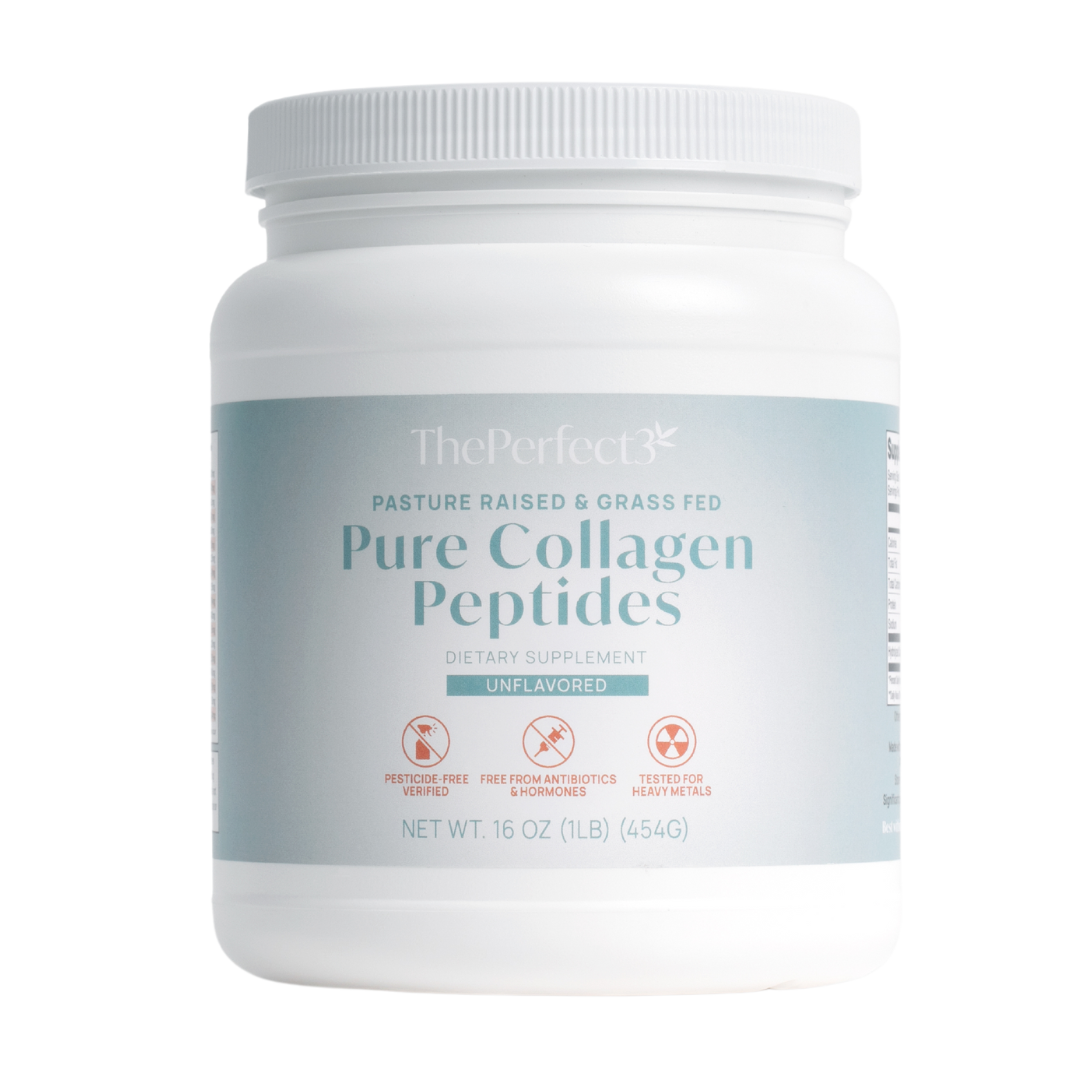 How ThePerfect3 Collagen Can Support You:
Collagen is one of the main building blocks of our skin, hair, nails, bones, muscles, and joints. Starting as early as our 20's, our body starts making less collagen. By enjoying our collagen powder, you are giving your body what it needs to repair more effectively. 
Enjoy hydrated, smooth, fuller skin
Build stronger nails & thicker, fuller hair
Support joint repair to reduce joint pain and stiffness
Boost muscle repair and growth
Slow the aging process
Aide bone health & strength
Suggested Use:
Mix 1-2 scoops into any liquid at least once a day. Research shows that the benefits result from consistent use over time.
About Our Collagen:
Each serving contains 10 grams of Type 1 & Type III Collagen.
Type I: This type makes up 90% of your body's collagen. Type I is densely packed and used to provide structure to your skin, bones, tendons, nails, hair and ligaments.
Type III: This type is found in muscles, arteries, and organs.
What To Expect:
Our collagen is totally odorless & flavorless, so it can easily be added into any liquid. Some customers even add it to their water! Most enjoy it in their morning coffee or tea.
The purity of our collagen allows it to dissolve almost instantly.
Why Choose ThePerfect3 Collagen Over Other Brands:
At ThePerfect3, we are dedicated to bringing you the cleanest, highest quality collagen available. Our collagen goes through extensive lab testing to ensure it is pure and free from common contaminants. You can feel great knowing that your collagen is:
✔️ made from pasture-raised & grass-fed bovine
✔️ Pesticide-Free Verified
✔️ lab tested for purity from heavy metals, hormones, antibiotics, and chemical residues
Collagen Products Available In Corona, CA
To learn more about the health products offered at Nurturing You Women's Health and Wellness or to schedule an appointment, reach out by calling our office or connecting with us online today!